" Grant that I may never again seek any pleasure other than that of pleasing You, of visiting You often, of speaking with You... "
St. Alphonsus Liguori
News and Events
News and Events... Updated regularly
Fr Provincial's Letter 30th March 2010
Details
Dear Confreres and Friends,
As Easter approaches, may I on behalf of the Ordinary Provincial Council (OPC), offer you our best wishes for a joyful celebration of this special time in the Church's year. We very much look forward to meeting many of you at the Province Meeting which commences on Easter Monday evening.
I am conscious that there is an especially heavy cloud over the Church in these days. I recall just over two years ago, I preached a homily on the day I was elected Provincial. In it, I compared the Church to the man by the side of the road in the story of the Good Samaritan. And I suggested that what we need to do at this time, is to pour the oil of our healing and our love into the Church.
This is in no way to minimize the sinfulness and awfulness of the situation. It is, however, an attempt to bring the new and healed (? resurrected) life of the Risen Jesus to the whole body of the Church. This is a difficult time for all of us. It is especially difficult for our confreres in the Irish Church and in Provinces where the media is now investigating fresh allegations. We are in solidarity with our confreres throughout the world. Let us pray also for our wounded Church.
Fr Charlie Corrigan will be in contact with those wishing to participate in the Episcopal Ordination of Fr Ralph in Gibraltar on 10th July. At present Fr Ralph is on retreat with the Postulants in Llandudno, and we continue to hold him in our prayer. Fr. Maurice has sent out a press release, including a correction to the Tablet article which described Fr. Ralph as the Parish Priest of Billericay!
For those who are not able to be present at the Province meeting, we ask your prayers. The meeting will be followed by a one day session of the Chapter, and then by a meeting of the EPC. Since this Chapter session lasts only one day, there will be no representation from Zimbabwe. The ORC there is about to announce changes in the Region in the coming days.
For information, the EPC requested a review of both Pastoral Centres in accordance with the Province Plan, and this has been carried out by Fr. Gabriel Zsidzi and Sr. Raymunda Jordan, who together visited both Hawkstone and Kinnoull, spending two days in each Centre respectively. Their assessment will be offered to the members of the Chapter and the EPC.
Birthdays this month are: Fr. Dominic O'Toole 6th, Fr. Francis Dickinson 10th, Brother Anthony 11th and Fr. Tom McCarte on 29th. Congratulations to all.
My Newman prayer for this month is a rather familiar one, and I confess, a favourite of mine:
Dear Jesus, help me to spread your fragrance everywhere I go.
Flood my soul with your spirit and life.
Penetrate and possess my whole being so utterly,
that my life may only be a radiance of yours.

Shine through me, and be so in me
that every soul I come in contact with
may feel your presence in my soul.
Let them look up and see no longer me, but only Jesus!

Stay with me and then I shall begin to shine as you shine,
so to shine as to be a light to others;
The light, O Jesus will be all from you; none of it will be mine;
it will be you, shining on others through me.

Let me thus praise you the way you love best, by shining on those around me.
Let me preach you without preaching, not by words but by my example,
by the catching force of the sympathetic influence of what I do,
the evident fullness of the love my heart bears to you
I hope that this Holy week is blessed for all the members of the Province and that the Sacred Triduum draws us all closer to Our Lord. Above all, I pray that each one experiences the joy of the Risen Saviour.
With best wishes,
In Christ the Redeemer,
Ronald J. McAinsh, C.Ss.R.
Provincial Superior
Fr Provincial's Letter 27th January 2010
Details
Dear Confreres and Friends,
All good wishes for the new year of 2010.
"I said to the man who stood at the gate of the year, 'Give me a light that I may tread safely into the unknown'. And he replied, 'Go into the darkness and put your hand into the hand of God. That shall be to you better than light and safer than a known way!'
So I went forth and finding the Hand of God, walked gladly into the night. He led me towards the hill and the breaking of the day in the lone east. So my heart be still. What does our human life need to know, if God knows. In all the difficult strife of things, both high and low, God hides his intention".
These words by the American poet Minnie Haskins, will be familiar to many of you, used by the late King George VI in his Christmas message at the beginning of World War II. As we begin this year, they might also cause us to stop and reflect on our own provincial and personal situations.
I, for one, believe that we are being invited into a special time of living in faith in the Province. We have several sick and elderly confreres, we have few in formation, the future in terms of our Houses and our co-operation with the conference of Europe is very unclear. And yet the invitation is to walk into this night of faith and to remain in peace. I honestly believe that if we do not succumb to discouragement or despair, then the Lord will lead the Redemptorists of this Province and our Region, to new possibilities. And so I invite each confrere to reflect on the words above, and to deepen their relationship with the Lord as individuals and as communities. It seems that there has never been a more challenging time for us as Redemptorists here in the Province. Society almost taunts us with its lack of interest in religion or the Christian life. And yet I am convinced that underneath, there is a deep hunger for meaning, for something authentic, for God.
How we engage in this dynamic, I have no clear idea. However, that is the challenge of being a Redemptorist today. And I am confident that we can find some ways of entering into deeper dialogue, and explore further ways of communicating the Good News. But we need to remain rooted in faith and secure in the authenticity of our Redemptorist vocation. So I hope we can move through this year with a quiet confidence in the mission of our Province and our Congregation.
This letter will reach you unsigned. I am on Caldey Island preaching to the Cistercian community and at present can find no internet. When I do find it, I will send this letter to Sr. Maria in Kinnoull who will see to its distribution. Sadly, Sr. Maria will be leaving Kinnoull next month. Her Congregation has asked her to take over the animation of their Heritage Centre in Dublin. Maria will be missed in Kinnoull for her ministry of hospitality, and also for the work she did in the Provincial Office. We all wish her well in her new ministry.
A few days ago, I attended the funeral of Fr. Stephen Wetherall. Fr. Steve was a faithful servant of the Province and in particular of our apostolate of the pen at Chawton. I was happy to have visited him only two days before his death. I will ask Fr. Dickinson to send round an expanded copy of his homily as a memorial to Fr. Steve. May he rest in peace.
Our postulants continue to study at Hope University and the reports I have received from Fr. Ralph are encouraging. Please continue to pray for, and actively seek out, good vocations.
I was in Zimbabwe over the Christmas period and the situation is a little more stable there. Fr. William Guri will be letting you know about the first Regional Convocation which will take place in March.
Birthdays for February are Fr Philip Jones 4th, Fr Desmond Keegan 14th and Fr Michael Henesy, 24th.
The dreadful situation in Haiti continues to occupy the minds of many people. I know that nearly all the communities have had collections for Haiti at the request of Fr. General. These may be sent to Maurice O'Mahony, our Provincial Bursar who will see that they are forwarded. I have been in email contact with Fr. Mario Bois Provincial of St. Anne de Beaupré, and also Fr. Adonai Jean-Juste, the Regional Superior of the Unit in Port au Prince. He tells me that they are still sleeping outside, but that they are grateful for our prayers, concern and offerings. The latest news from Vietnam is also discouraging, with the Government actively continuing and intensifying its persecution of our Congregation. Again Fr. General asks our prayers for that ongoing difficult situation.
This year we expect the Holy Father to visit Britain to beatify John Henry Newman. In preparation for this I have been reading the volume on Neman from the Great Spiritual Classics series, and I can recommend it as an accessible and educational way of getting to know Newman's writing at a deeper level. I conclude with an extract from one of the sermons, Parochial and Plain, which might be a springboard for some of us for the coming year. The style is unmistakably in the genre of St. Alphonsus, and I have left it in the original Victorian English.
"Oh that we could take that simple view of things, as to feel that the one thing which lies before us is to please God! What gain is it to please the world, to please the great, even to please those whom we love, compared with this? What gain is it to be applauded, admired, courted, followed, compared with this one aim, of not being disobedient to a heavenly vision? What can this world offer comparable with that insight into spiritual things, that keen faith, that heavenly peace, that high sanctity, that everlasting righteousness, that hope of glory, which they have who in sincerity love and follow our Lord Jesus Christ?
Let us beg and pray Him day by day to reveal Himself to our souls more fully; to quicken our senses; to give us sight and hearing, taste and touch of the world to come; so to work within us that we may sincerely say, "Thou shall guide me with Thy counsel, and after that receive me to glory. Whom have I in heaven but Thee? And there is none upon earth that I desire in comparison of Thee: my flesh and my heart faileth; but God is the strength of my heart, and my portion for ever."
With best wishes,
In Christ the Redeemer,
Ronald J. McAinsh, C.Ss.R
Provincial Superior
Our Challenges and Opportunities
Details
Message of Fr. General CSsR for the Feast of St. Clement Hofbauer, CSsR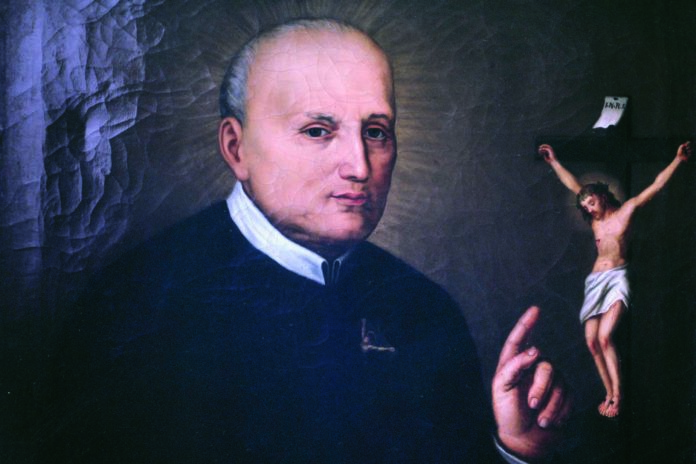 \
"To preach the Gospel ever anew"
March 15, 2019
Dear Confreres, Sisters, associates, and friends,
As we approach the Mid-Sexennial Meetings, and the approval of the Apostolic and Restructuring Plans of each Conference, the story of St. Clement Hofbauer offers us great hope and remarkable insights into the ways in which God calls people to share in the missionary vocation of our Congregation.
Clement Hofbauer was almost 33 years of age when he was accepted into the Redemptorist novitiate, along with his friend Thaddeus Hübl. Although he had a strong sense of vocation to the missionary life and to the priesthood, various obstacles kept disappointing his hopes of realizing this dream. Nevertheless, Clement did not stop searching for a way to respond to what he experienced as the call of God. He studied theology in Vienna, spent time as a hermit and catechist in Tivoli, read spiritual books (including some works by Alphonsus Liguori), developed a deep prayer life, and went on a pilgrimage to Rome. In Rome, he met the Redemptorist Missionaries working in the church of San Giuliano and requested admission to the Congregation.
Fr Terry Creech
Details

Lourdes Award for Confrere Fr Terry Creech
After many years of faithful service to the Pilgrims in the French Shrine at Lourdes, Fr. Terry Creech was honoured by receiving the
"Medallion d'Honor".
We congratulate him as his years of service are so highly recognised.
Bishop Heskett
Details
Confrere of our Province Ordained Bishop
Bishop Ralph Heskett C.Ss.R., was ordained Bishop of Gibraltar on Saturday 10th of July.
We offer our warmest congratulations to Bishop Ralph and assure him of our prayers
as he begins this new and important ministry.
The Ordination of Bishop Ralph can be watched on the internet
Enjoy the photos...
A quiet moment before taking possession of the Cathedral
Knocking the Cathedral door with his crozier
Being warmly welcomed at the door of the Cathedral
Bishop Ralph with his postulants Gerry, Peter and Charles
Always in good singing voice!
Enjoying the people
A happy looking Bishop!
Sharing a moment with his brother Redemptorists
CONGRATULATIONS BISHOP RALPH!
Province Mission Team
Details
Province Mission team – working in collaboration with the laity
"Our present parish missions are about putting new heart into the disciples already present, affirming and encouraging them to be witnesses to a broken world. They are also about outreach to those on the margins, and to those within the faith communities who are unsure of the road ahead. Depending on the type of mission employed within the parish, the emphasis may rest more heavily on building up or outreach. One thing is certain however; the Holy Spirit works in a special way during a mission experience, touching people in a way that I believe no parish programme can."

The experience of a Redemptorist renewal in a parish is a powerful experience for all concerned. It is a time of celebration and growth, a time to deepen faith and share the Good news. It is a time to reach out in the Spirit and unite parish communities.
To quote one confrere;
'Redemptorist missioners stand on holy ground, we see early morning mystics paging through tatered prayer books, the promise of thier prayers gives us confidence. We see the teenager smiling at old church jokes she has never heard. We see families coming to church, parents having worked eight hour shifts, prepared the meals and fed the dog, and still getting to the mission. We counsel people who witness to a holiness they are unconsious of.'

Each of us is evangelized by the experience of a mission.

A Redemptorist Missionary
Listen to what many people have experienced:
"The Mission was a wonderful experience; the people found it enjoyable and uplifting. I certainly feel the parish has benefited from it."

Parish Priest, Sunderland
"What a blessing the Redemptorists have brought to our Parish Community. The Mission celebrations enkindled our faith and enabled us to reach out to others. Each evening was so special and unique."

Parishioner, Poplar, London's East End.
"I only planned to come to the Youth Service, but attended the whole week. I can tell this experience has touched many people here. God has brought us together. Come back and see us soon!"

A Parishioner, Mansfield