" Have you ever seriously reflected what those words mean, a God to be made man, and to die for thee? "
St. Alphonsus Liguori
News and Events
News and Events... Updated regularly
OSsR Nun makes her First Profession of Vows today...
Details
OSsR Nun makes her First Profession of Vows today...
Please keep our OSsR Sisters the #Redemptoristines #Rednuns
in your prayers as one of their novices takes her first vows today
Our Holy Father Alphonsus...
Details
Our Holy Father Alphonsus...
The members of the
Congregation of the Most Holy Redeemer
are known as
the Redemptorists
who opt to proclaim the Good News
to the poor and the abandoned.
OSsR & CSsR in India
Details
OSsR & CSsR in India...
Sr. Gabrielle Fox OSsR from the Redemptoristine Monastery in Dublin and Fr. Ronnie McAinsh CSsR from the Redemptoristine Secretariat received a very warm welcome from the Redemptorist community in Mumbai.
Father Ronnie was able to preach at the novena service for the preparation of the feast of the Mother of Perpetual Help, which took place each evening and saw a capacity filled church. On Sunday evening Sr. Gabrielle spoke about the long-standing desire of her monastery to establish Redemptoristine life in India; and Sr. Shital, the first Indian postulant also spoke to the large congregation.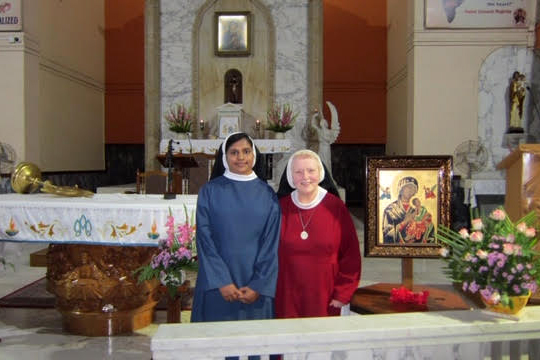 The hospitality of the Vice Provincial, Fr. Ivel, the Rector, Fr. Henry and the entire community was outstanding and the enthusiasm among the faithful for the Redemptorist charism is very apparent.
Fr Provincial writes August 2019...
Details
Fr Provincial writes August 2019...
3rd August, 2019
Dear Confreres and friends,
My greetings for the feast St. Alphonsus are a little late since I have been in Nairobi at a meeting of the Conference of Africa. However I wish to assure you that I prayed for each one of you and continue to hold the Province in my prayers.
At the meeting we were talking about our Redemptorist life and our mission, and it strikes me always that our first mission is to engage in an actual encounter with Jesus; and I am also aware that this is one of the most challenging aspects of our apostolic life. You will know that I like to quote the letter St. Alphonsus wrote from Arienzo in 1774 to the first group of confreres. In it, he cites the primacy of prayer. I quote only a very short extract:
"You already know that the most efficacious means to enable us to bear contradictions is to have a very great love of Jesus. But for this much prayer is necessary. To love Jesus Christ is the greatest work we can ever do on this earth. But it is a work and a gift we cannot have of ourselves. It comes from him. And he is willing to give it. So that if we are lacking in it, it is through our own fault and negligence that we do not have it."
Ven Margaret Sinclair - Commitment and Confidence...
Details
Ven Margaret Sinclair - Commitment and Confidence...
Fr Richard Reid CSsR was invited by the Poor Clare Community in Arkley, the Community of the Venerable Margaret Sinclair, to mark the Anniversary of the Ven Margaret's entry into the Poor Clares. Find below his words on that day...
JMJTA
Dear Brothers and Sisters!
I have know of the Venerable Margaret all of my life - believe it or not - because my granny always had a prayer card of the Venerable Margaret somewhere obvious in her house! So you can now appreciate how strange it was for me to find myself in the church of St Patrick's those years ago. And you may well appreciate the great pride (not sinful pride) I was able to take when the hearse left the Mount Vernon cemetery with her coffin inside and I travelled all the way back to St Pat's, with Ven Margaret's remains by my side.
With military precision the whole event was organised and everything went to plan perfectly. With great dignity, and with great love and respect, Margaret returned home! She was carried in to the empty church - and it had to be empty - and at the back beside the baptismal font, a red ribbon went around the coffin and this was secured by a seal of wax. She was carried into the church in complete silence and taken to the side altar where her new tomb awaited her. There were 14 of us carrying out this incredible ceremony. I should say that up in the choir loft was a small group of parishioners - Margaret's niece was also there - Norah Smith - God rest her soul - who all sat in complete silence and witnessed the whole thing.
I don't mind telling you that it was deeply spiritual and moving experience. 16 years ago when the Apostolic Nuntio came to to bless the shrine - that was a remarkable afternoon - we prayed and we sang and then prayed some more. The reason I am reminiscing in this fashion is because I remember the great enthusiasm and passion and energy and appreciation that we all had on that day concerning our love and need of the Venerable Margaret Sinclair.
It is my hope and prayer that we still have the same enthusiasm and passion and energy and appreciation for the Venerable. Clearly by the numbers I see here today, that is till true.
I would like to highlight the commitment and confidence that Margaret most definitely had in her life.
In her prayer life - witnessed in this church obviously - but then in her room around the corner from the church in Blackfriars street - her mother saw her praying in her room with arms outstretched - her mother walked away quietly, saying nothing. Commitment and confidence.
When at work she made sure the Lord was with her - displaying a holy card for all to see. Every morning she went in, the card was in the bin. She rescued it and reinstated it. That went on for a long time. Commitment and confidence.
Nearly broke her partners heart - Patrick Lynch - when she ended the relationship by returning the ring and ceasing the engagement. She knew that her heart was not for him - he certainly had a place in her heart - but her heart wanted more than he could give her - but how to break the relationship? Commitment and confidence.
Once she was asked, Why don't you just become a Little Sister of the Poor like your sister Bella. To which Margaret replied, I could never become a Little Sister Of the Poor, I will be a Poor Clare. Commitment and confidence.
When Margaret came to be dying in the Daughters of Charity sanatorium in Warley she was never one of those patients who cried and simpered to try and gain others sympathy. The files that sit in Rome, called the Positio and again I have had the privilege of studying it, show Margaret's fun-loving side, for example in her "sparring relationship" with Sister Frances Mulgrew, a nun from Glasgow who nursed Margaret and with whom Margaret developed a friendship. "They hit it off by slagging off each other's cities." Commitment and confidence.
Fr Agius her spiritual director came to appreciate the divine relationship that was going on in Margaret's life. Visiting Margaret in Warley, he began to recognise that it seemed as if Margaret was having mystical experiences with the Lord. Again, with no great show or ostentation, but she simply answered his questions. Commitment and confidence.
I could go on and on with more of these examples, however I am sure you know well what I am saying - Margaret had a commitment and confidence.
Before I go on to say anymore about this, let me tell you a time when maybe Margaret lacked commitment and confidence. On her first evening in the Poor Clare monastery in London, a priest found her in the corridor crying and so he went into a parlour with her and he managed to calm her down. No wonder she was upset - the long journey from Edinburgh, her brother had travelled with her, but then she waved him off as he then emigrated on a ship going West, and then she entered her new life as a Poor Clare. However back to the priest, what was he doing in the monastery? The simple answer is that he was giving a retreat to the Poor Clare nuns and he was a Redemptorist!
We are here today to remember our dear Margaret - Sr Mary Francis of the Five Wounds - we are here today to bring our petitions to the shrine - and we are here today to realise and celebrate the fact that we are not on our own - we are all members of the Holy, Catholic and Apostolic Church. We are in this devotion together.
Let us never forget the one reason why we are all attracted to Margaret - she had Jesus her loving Lord and Saviour at the heart of her existence.
In her family
In her work
In her personal relationships
In her Religious Life
In her sickness
and in her dying
Jesus was there!
May I suggest that as we celebrate the Venerable Margaret Sinclair's life and we place our petitions and our prayers for our loved ones, we take a moment to ask her to grant us, individually, the grace of
i - giving us a deeper and truer commitment to Jesus Christ - saying, Lord I want you to be at the very centre of my life.
ii - giving us a deeper and truer confidence in Jesus Christ - saying, Lord I trust that you know what you are doing with my life - even in those moments when I cannot see the way forward.
Today - let us ask for these two graces.
Commitment and Confidence in Jesus Christ.
Venerable Margaret Sinclair - pray for us.
Fr Richard Reid CSsR
28th July 2019
Witnesses of the Redeemer...
Details
WITNESSES OF THE REDEEMER:
In Solidarity for Mission to a Wounded World 2019
Dear Confreres, Sisters, Redemptorist Associates and friends,
Each year we celebrate the feast of St. Alphonsus Maria Liguori in a spirit of gratitude and joy for the gift that he is for the whole Church, for the Congregation and the Redemptorist Family, and for each one of us personally. This year, as we celebrate the Mid-Sexennium Meetings and the important decisions that we will make about the Apostolic and Restructuring Plans in each Conference, we are especially grateful for the example of openness to conversion and to the will of God that Alphonsus has given us in his life and his writings.
For St. Alphonsus, 'conversion' is not only conversion from sin, but much more importantly conversion to the will of God and to the practice of the love of Jesus Christ. This conversion is a lifelong process, which involves a spirit of openness, willingness to learn and to change, to read the 'signs of the times' in the light of the Gospel and to respond to the real needs of God's people – especially those on the peripheries, the abandoned and the poor.
Even in his final years in Pagani, in 1785, Alphonsus gives us this witness clearly in his reply when he is told about the mission of Clement Hofbauer and Thaddeus Huebl who are sent 'beyond the Alps' to establish the Congregation. Alphonsus recognized that new situations and new ages will call for adaptation and growth – but the heart of our missionary vocation remains the same as we follow the example of Jesus Christ our Redeemer preaching the Gospel to the abandoned and the poor (cf. Cons. 1).
Since the 25th General Chapter in 2016, we have been listening carefully to the Holy Spirit as we have engaged in this process of discernment – through study and dialogue, reflection and prayer, in every (V) Province, Region and in every Conference. The Conference Commissions for the Apostolic and Restructuring Plan, as well as Assemblies, Chapters, and Councils, have worked together with perseverance and openness. Together, we seek to make this spirit which animated Alphonsus our own spirit.
Solemnity of the most Holy Redeemer 2019
Details
Solemnity of the most Holy Redeemer 2019...
Today, the third Sunday in July,
the members of the
Order and Congregation
of the Most Holy Redeemer
OSsR &CSsR
celebrate this Solemnity in his honour.
All around the world
in 80 countries
the 5,000 Redemptorist Cardinal, Bishops, Priests, Brothers and students,
400 Redemptoristines nuns
and all the other other Congregations connected to us
raise our voices in praise and joy
as we celebrate this feast.
We, the Redemptorists of the London Province
offer our prayers for our
confreres and sisters
families, friends, co-workers and benefactors
around the world.
May today be a day of great blessing for YOU!
The above needs some editing - since it was produced we have even more Redemptorist Blesseds - and one Cardinal!
Pray that the Lord will contune to bless us with many vocations
- here and throughout the world!
Youth Justice and Peace CSsR Group - Liverpool
Details
The Youth Justice and Peace Group from our Liverpool parishes (St Mary's Woolton and Our Lady of the Annunciation Bishop Eton were highly recommended in the Dorothy Day Award. Part of the Million Minutes Awards.
Here are some of the members with the leaders of the group
Preparing for Final Vows...
Details
Preparing for Final Vows...
(Tuchów, Poland) A month preparation for perpetual vows of the Redemptorists of the Conference of Europe began on July 7th 2019 in Lubaszowa, Poland. Altogether 18 Confreres from different countries and continents will spend there in Tuchów for next four weeks renewing their commitment to the Most Holy Redeemer to preach the Gospel to the poor and the most abandoned.
The participants those who joined are from the Province of London (2), Edmonton-Toronto (1), Rome (1), Lviv (1), Warsaw (11 including: 3 students and 9 fathers and 1 brother who completed ten years after their perpetual profession), Vice-province Michalovce (1) and Region Zimbabwe (1).
The time of the renewal will be dedicated to lectures, prayer, knowing each other and building of fraternal community. The lectures of the monthly renewal will be presented by the guests speakers
Fr. Johannes Rӧmelt, Fr. Janusz Sok, Fr. Ronald McAinsh
and others who will speak on the following topics:
"Redemptorist: Priest in a century of the challenges",
"Obedience: how to seek the will of God",
"Theology of the Constitutions of the Redemptorists"
and many others.
We hope it will be a time of not only a new portion of knowledge but making new friends as well.
Paweł Orzeł CSsR, Tuchów
What an amazing gang to belong to...
Details
What an amazing gang to belong to...
We are the
Redemptorist and Redemptoristine family
- it is one mighty adventure!
CSsR and OSsR
Copiosa apud eum redemptio