" He who desires to obey the divine call must firmly resolve to follow it, and that as soon as possible. "
St. Alphonsus Liguori
News Items
Bishop Raymond Mupandasekwa CSsR preaches...
Details
Bishop Raymond Mupandasekwa CSsR preaches...
A powerful homily to three new priests of the Diocese of Chinhoyi in Zimbabwe given by Bishop Raymond Mupandasekwa CSsR
#CSsR #Redemptorists #Vocations #Priesthood #ReligiousLife
+++++++++++
I have never been so happy- Bishop Mupandasekwa CSsR
By Kuda Matambo
Conducting his first priestly ordination on 10 August 2019 as the Bishop of the Diocese of Chinhoyi since his episcopal ordination in April 2018, Rt Rev Raymond Mupandasekwa CSsR said he has 'never been so happy in his life as a priest' and that the joy comes from God.
"If you were to ask me, in my 18 years of priesthood, I have never been so happy, the ministry gives me joy, and please know that this joy comes from not having materials things, it comes from God," said Bishop Mupandasekwa.
OSsR Nun makes her First Profession of Vows today...
Details
OSsR Nun makes her First Profession of Vows today...
Please keep our OSsR Sisters the #Redemptoristines #Rednuns
in your prayers as one of their novices takes her first vows today
Our Holy Father Alphonsus...
Details
Our Holy Father Alphonsus...
The members of the
Congregation of the Most Holy Redeemer
are known as
the Redemptorists
who opt to proclaim the Good News
to the poor and the abandoned.
OSsR & CSsR in India
Details
OSsR & CSsR in India...
Sr. Gabrielle Fox OSsR from the Redemptoristine Monastery in Dublin and Fr. Ronnie McAinsh CSsR from the Redemptoristine Secretariat received a very warm welcome from the Redemptorist community in Mumbai.
Father Ronnie was able to preach at the novena service for the preparation of the feast of the Mother of Perpetual Help, which took place each evening and saw a capacity filled church. On Sunday evening Sr. Gabrielle spoke about the long-standing desire of her monastery to establish Redemptoristine life in India; and Sr. Shital, the first Indian postulant also spoke to the large congregation.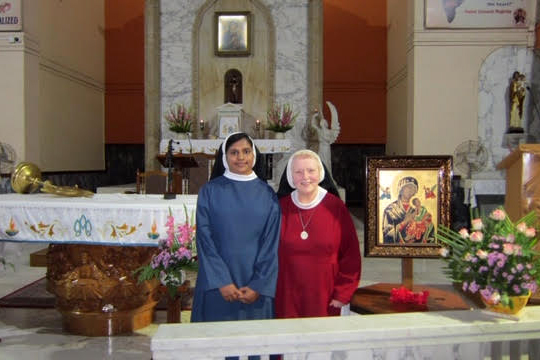 The hospitality of the Vice Provincial, Fr. Ivel, the Rector, Fr. Henry and the entire community was outstanding and the enthusiasm among the faithful for the Redemptorist charism is very apparent.
Ven Margaret Sinclair - Commitment and Confidence...
Details
Ven Margaret Sinclair - Commitment and Confidence...
Fr Richard Reid CSsR was invited by the Poor Clare Community in Arkley, the Community of the Venerable Margaret Sinclair, to mark the Anniversary of the Ven Margaret's entry into the Poor Clares. Find below his words on that day...
JMJTA
Dear Brothers and Sisters!
I have know of the Venerable Margaret all of my life - believe it or not - because my granny always had a prayer card of the Venerable Margaret somewhere obvious in her house! So you can now appreciate how strange it was for me to find myself in the church of St Patrick's those years ago. And you may well appreciate the great pride (not sinful pride) I was able to take when the hearse left the Mount Vernon cemetery with her coffin inside and I travelled all the way back to St Pat's, with Ven Margaret's remains by my side.
With military precision the whole event was organised and everything went to plan perfectly. With great dignity, and with great love and respect, Margaret returned home! She was carried in to the empty church - and it had to be empty - and at the back beside the baptismal font, a red ribbon went around the coffin and this was secured by a seal of wax. She was carried into the church in complete silence and taken to the side altar where her new tomb awaited her. There were 14 of us carrying out this incredible ceremony. I should say that up in the choir loft was a small group of parishioners - Margaret's niece was also there - Norah Smith - God rest her soul - who all sat in complete silence and witnessed the whole thing.
I don't mind telling you that it was deeply spiritual and moving experience. 16 years ago when the Apostolic Nuntio came to to bless the shrine - that was a remarkable afternoon - we prayed and we sang and then prayed some more. The reason I am reminiscing in this fashion is because I remember the great enthusiasm and passion and energy and appreciation that we all had on that day concerning our love and need of the Venerable Margaret Sinclair.
It is my hope and prayer that we still have the same enthusiasm and passion and energy and appreciation for the Venerable. Clearly by the numbers I see here today, that is till true.
I would like to highlight the commitment and confidence that Margaret most definitely had in her life.
In her prayer life - witnessed in this church obviously - but then in her room around the corner from the church in Blackfriars street - her mother saw her praying in her room with arms outstretched - her mother walked away quietly, saying nothing. Commitment and confidence.
When at work she made sure the Lord was with her - displaying a holy card for all to see. Every morning she went in, the card was in the bin. She rescued it and reinstated it. That went on for a long time. Commitment and confidence.
Nearly broke her partners heart - Patrick Lynch - when she ended the relationship by returning the ring and ceasing the engagement. She knew that her heart was not for him - he certainly had a place in her heart - but her heart wanted more than he could give her - but how to break the relationship? Commitment and confidence.
Once she was asked, Why don't you just become a Little Sister of the Poor like your sister Bella. To which Margaret replied, I could never become a Little Sister Of the Poor, I will be a Poor Clare. Commitment and confidence.
When Margaret came to be dying in the Daughters of Charity sanatorium in Warley she was never one of those patients who cried and simpered to try and gain others sympathy. The files that sit in Rome, called the Positio and again I have had the privilege of studying it, show Margaret's fun-loving side, for example in her "sparring relationship" with Sister Frances Mulgrew, a nun from Glasgow who nursed Margaret and with whom Margaret developed a friendship. "They hit it off by slagging off each other's cities." Commitment and confidence.
Fr Agius her spiritual director came to appreciate the divine relationship that was going on in Margaret's life. Visiting Margaret in Warley, he began to recognise that it seemed as if Margaret was having mystical experiences with the Lord. Again, with no great show or ostentation, but she simply answered his questions. Commitment and confidence.
I could go on and on with more of these examples, however I am sure you know well what I am saying - Margaret had a commitment and confidence.
Before I go on to say anymore about this, let me tell you a time when maybe Margaret lacked commitment and confidence. On her first evening in the Poor Clare monastery in London, a priest found her in the corridor crying and so he went into a parlour with her and he managed to calm her down. No wonder she was upset - the long journey from Edinburgh, her brother had travelled with her, but then she waved him off as he then emigrated on a ship going West, and then she entered her new life as a Poor Clare. However back to the priest, what was he doing in the monastery? The simple answer is that he was giving a retreat to the Poor Clare nuns and he was a Redemptorist!
We are here today to remember our dear Margaret - Sr Mary Francis of the Five Wounds - we are here today to bring our petitions to the shrine - and we are here today to realise and celebrate the fact that we are not on our own - we are all members of the Holy, Catholic and Apostolic Church. We are in this devotion together.
Let us never forget the one reason why we are all attracted to Margaret - she had Jesus her loving Lord and Saviour at the heart of her existence.
In her family
In her work
In her personal relationships
In her Religious Life
In her sickness
and in her dying
Jesus was there!
May I suggest that as we celebrate the Venerable Margaret Sinclair's life and we place our petitions and our prayers for our loved ones, we take a moment to ask her to grant us, individually, the grace of
i - giving us a deeper and truer commitment to Jesus Christ - saying, Lord I want you to be at the very centre of my life.
ii - giving us a deeper and truer confidence in Jesus Christ - saying, Lord I trust that you know what you are doing with my life - even in those moments when I cannot see the way forward.
Today - let us ask for these two graces.
Commitment and Confidence in Jesus Christ.
Venerable Margaret Sinclair - pray for us.
Fr Richard Reid CSsR
28th July 2019
Solemnity of the most Holy Redeemer 2019
Details
Solemnity of the most Holy Redeemer 2019...
Today, the third Sunday in July,
the members of the
Order and Congregation
of the Most Holy Redeemer
OSsR &CSsR
celebrate this Solemnity in his honour.
All around the world
in 80 countries
the 5,000 Redemptorist Cardinal, Bishops, Priests, Brothers and students,
400 Redemptoristines nuns
and all the other other Congregations connected to us
raise our voices in praise and joy
as we celebrate this feast.
We, the Redemptorists of the London Province
offer our prayers for our
confreres and sisters
families, friends, co-workers and benefactors
around the world.
May today be a day of great blessing for YOU!
The above needs some editing - since it was produced we have even more Redemptorist Blesseds - and one Cardinal!
Pray that the Lord will contune to bless us with many vocations
- here and throughout the world!
What an amazing gang to belong to...
Details
What an amazing gang to belong to...
We are the
Redemptorist and Redemptoristine family
- it is one mighty adventure!
CSsR and OSsR
Copiosa apud eum redemptio
Fr Andrew Burns on his work with Worldwide Marriage Encounter
Details
Fr Andrew Burns on his work with Worldwide Marriage Encounter
(This article was first published in the July 2019 edition of BE Alive, Bishop Eton's monthly magazine)
Someone said to me the other day, 'You're so busy coming and going that one day you'll meet yourself coming back!' Others say, 'How long are you back for this time?' And it is true. Last year I was in Belgium twice, in Italy, Hungary, Ireland, and Madrid five times and yet didn't have a holiday. What's all that about?
You should've picked up along the way that I am deeply involved In Worldwide Marriage Encounter, WWME, a Catholic movement that promotes and supports the Sacraments of Marriage and Priesthood. For the last two years, I have been the priest member of the leadership team for Europe. Marriage Encounter is present in 12 countries of Europe: England, Ireland, Holland, France, Germany, Austria, Italy, Spain, Portugal, Croatia, Hungary and twice in Belgium, in Flemish and French Belgium. Three times every year, the national leadership teams (a couple and a priest) meet together in each of these countries in turn. Together with the European Team, we try to respond to the challenges to married life and life in the church from the modern world. As you can imagine, these challenges are huge. Even in so-called Catholic countries, the spirit of the age militates against things we consider to be the bedrock of our society, the Church, marriage and family life.
Read more: Fr Andrew Burns on his work with Worldwide Marriage Encounter
Ven Bernard Lubienski CSsR...his family tell a story
Details
Ven Bernard
Ł

ubienski CSsR...his family tell a story...

The Łubienski family tell part of their story...
Venerable Bernard Łubienski - Pray for us.
Information about graces received through Venerable Bernard Łubienski's intercessions should be sent to: V Rev Fr Rector CSsR, Bishop Eton Monastery, Woolton Road, Liverpool, UK, L16 8NQ
Fr Reg Ahearn RIP... Australia
Details
Fr Reg Ahearn RIP...
We joined the Oceania Province of the Redemptorists in their sorrow at the passing of Fr Reginald Ahearn CSsR - as he was a blood brother of our dear Fr Bev Ahearn CSsR. In London we were united with our confreres in Syndey Australia as they celebrated the funeral mass.
"The Redemptorist community at Kogarah in Sydney gathered for the funeral Mass for Fr Reginald Patrick Ahearn CSsR on Tuesday May 28. Fr Reginald died last week aged 88.
Bishop of Ballarat Paul Bird CSsR was the main celebrant at the Mass which was held in the Redemptorist chapel in Kogarah. Relatives and friends joined the Redemptorist community at the Mass for Fr Reginald.
He will be greatly missed by all those who knew him, including his fellow Redemptorist priests and brothers. Born to parents Stephen and Mary in 1931, he had two brothers, Raymond and Beverley, also a Redemptorist, and a sister, Valerie.
Fr Reginald CSsR passed away at Calvary Hospital on Wednesday May 22, 2019. Fr Reginald was ordained to the priesthood on March 10, 1957 and for many years, his ministry included Australia and the Philippines.
May Fr Reginald remain in your prayers.
Lord, we thank you for giving us a confrere in the family of Saint Alphonsus. Thank you for his life and service to God. We pray for Fr Reginald to be welcomed in the Heavenly Kingdom. Amen."
To see the original article go here
Homily at Funeral for Fr Barrie O'Toole RIP
Details
FUNERAL OF FR BARRIE O'TOOLE, CSsR (82 YRS)...
BISHOP ETON, TUESDAY 21 MAY 2019 at NOON
HOMILY - preached by Fr Timothy Buckley CSsR - Parish Priest
I first met Fr Barrie O'Toole on the evening of Monday, October 18th 1965. Andrew Burns and I were two of the seven newly professed students who had made their way from the novitiate in Perth to Hawkstone Hall, then our Redemptorist seminary. The tradition was that each of the new students was placed in the tender care of a senior student – his guardian angel. As luck would have it, Barrie had been deputed to look after me. I recall that even at the age of 29 his distinguished mop of hair was more white than grey. I do not recall much about this initiation process beyond the fact that on that first evening, when he had shown me to my room, he looked around and said something along the lines of: "you poor thing – I couldn't possibly face starting here all over again!"
In fact Barrie was to prove a delightful confrère and life-long friend. He was ordained the following January and went to Rome to study Church History. A few years later he returned to teach at Hawkstone and I worked with him, catechising some of the children on the RAF station at Shawbury, where he was the chaplain. Until the last nine years that was the only time we were ever attached to the same community, but I enjoyed working with him on many occasions, including a memorable mission in Tudhoe and Spennymoor back in the spring of 1977.
Barrie enjoyed a rich and varied life as a Redemptorist priest. He coped with the transition of the students from Hawkstone to Canterbury in 1973 and was the first rector of that new student community. He moved from there to Hawkstone, where he built on the foundations laid by Jim McManus and helped to develop the Pastoral Centre into a place of international renown. During his fifty-three years of priesthood he had spells as a missioner and a retreat giver, two years in Brazil and three in Zimbabwe. He was part of two new experimental mission communities, one at Kiln Green near Reading and the other in Middlesbrough. His last years were spent here in Liverpool, where his cheerful and compassionate ministry was greatly appreciated.