" Have you ever seriously reflected what those words mean, a God to be made man, and to die for thee? "
St. Alphonsus Liguori
News Items
Walking the Way of the Cross...this Lent
Details
Walking the Way of the Cross...this Lent...
I love You Jesus, my love above all things.
I repent with my whole heart for having offended you.
I will never offend you again.
Grant that I may love You always; and then do with me as You will.
We adore You O Christ, and we bless you.
Because by Your holy cross, You have redeemed the world.
Brand NEW - The Life of St Alphonsus...
Details
Brand NEW - The Life of St Alphonsus...
~ DOCUMENTARY, BIOGRAPHY ~ Saint Alphonsus Liguori C.Ss.R. (1696–1787) was an Italian Catholic bishop, spiritual writer, composer, musician, artist, poet, lawyer, scholastic philosopher, and theologian. Today, his latest successor
Fr Michael Brehl C.Ss.R., worldwide Superior General,
tells the story of the man who founded the
Congregation of the Most Holy Redeemer
and gave hope to the Redemptorists and to million of people across the world.
Fr Richard CSsR explains Redemptorist Publications
Details
Fr Richard CSsR explains Redemptorist Publications...
A brief insight into the world of Christian publishing and the vital role of Redemptorist Publications among Catholic and Anglican communities.
Fr Ed Hone CSsR in Luxembourg...
Details
Fr Ed Hone in Luxembourg...
An interview with Fr Ed Hone CSsR was televised on Luxembourg TV and can be seen here Fr Ed speaks about the nature and mission of our English-speaking Catholic community here in Luxembourg.
Fr. Ed Hone CSsR is chaplain to the English-speaking Catholic community in Luxembourg.
The community was established over 50 years ago and is made up of a rich mix of nationalities. Anyone new to Luxembourg, or paying a visit, is welcome to join the Mass or any other events.
As Fr Ed says:
"God's house is our house, and there is room for all to enter and feel at home."
Feast of St Clement Mary Hofbauer CSsR
Details
Feast of St Clement Mary Hofbauer CSsR...
The 15th of March is the feast of St Clement Hofbauer, "Illustrious Propagator" of the Redemptorist Congregation and patron of the city of Vienna. Here is a short life from this month's Reality, written by Fr Dr Brendan McConvery CSsR,

How Jan Dvořák became Clement Hofbauer is of a piece with his complex story. He was born in 1751 in the small town of Tasovice in what was then Moravia, and is today the Czech Republic, almost 200 kilometres from Prague. His father Pavel Dvořák, a butcher, changed the Slavic form of the family name to its German equivalent, Hofbauer. Both names mean the same, 'farmer,' but in Clement's homeland, German and the local Slav dialect were used interchangeably. Switching from one language to another was to be a of the rest of Jan / Clement's life.

He was the ninth of twelve children. His father died when he was 6, and although Jan from his childhood felt the desire to become a priest, his family's poverty meant he had to go to work early. After finishing his apprenticeship as a baker, he was employed by the Premonstratensian canons of Brück. He remained there until he was 24, when he tried to become a hermit. His hermit days did not last long, for the government soon abolished all hermitages in the Habsburg Empire. Jan also had a passion for long-distance pilgrimages. He walked the 1,000 kilometres each way to Rome and back four times in his life. On the third occasion, he tried the hermit's life again near Tivoli, about thirty miles from Rome, changing his name to Clement Mary in memory of the pope of that name. He stayed there only six months, for his desire for priesthood had not gone away, and he would be Clement for ever. He returned home to begin studies at the University of Vienna. When he had finished his philosophy course, disappointment struck again, for the Emperor forbade religious orders to accept new candidates.
Prophetic Witness: Standing with the Abandoned
Details
Prophetic Witness: Standing with the Abandoned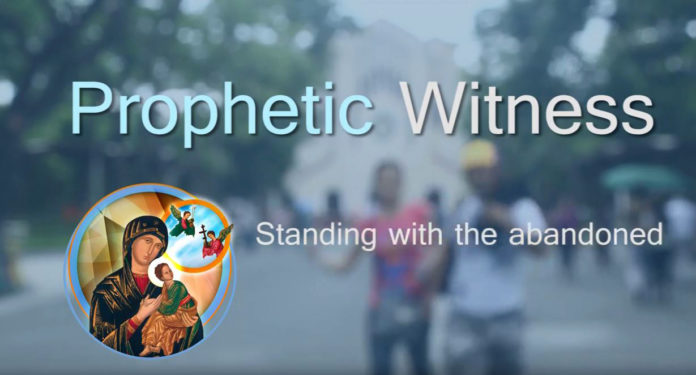 Prophetic Witness: Standing with the Abandoned is a CommonHome.tv documentary filmed and edited by Matthew Howard with the support of Redemptorists throughout the Philippines. CommonHome.tv is an initiative of the Redemptorists of Oceania.
Throughout the world, the Redemptorists are called to be Prophetic Witnesses. While cultural contexts may change, the principle remains the same; defend the dignity of the human person. In the Philippines, this has meant standing with the poor and standing up to dictators.
"Brother Jun is hoping that enough people will see what he has seen, that they will be moved to say and to act in such a way that we don't permit this kind of vigilantism, this kind of injustice, this extrajudicial killing to take place"
– Fr Michael Brehl, Redemptorist Superior General.
Prophetic Witness ~ standing with the abandoned follows Brother Ciriaco 'Jun' Santiago through the dark streets of Manila as he exposes the reality of President Rodrigo Duterte's drug war. Through photography, the extent and brutality of those murdered by means of extrajudicial killings are revealed. Follow Jun and Redemptorist communities throughout the Philippines as they systematise their response to the killings, and provide support for the living victims.
Prophetic Witness: Standing with the Abandoned
World War II - Catholic Padre Drowned...
Details
World War II - Catholic Padre Drowned...
This day we received some pictures and newpaper cutting from a great grand niece of Fr Thomas Bradley CSsR a Redemptorist who was in fact the first Catholic Chaplain to die in World War II, while serving the Royal Navy. He was also the oldest priest on active service. We are proud to share his story... find the story typed below and some more pictures, grateful received from Laura from Quebec ...
"Clapham Redemptorists have lost a much loved priest who is the first Roman Catholic priest to be lost while serving in the Royal Navy.
He was also the oldest priest on active service.
He was Father Thomas Bradley, who was born in Clapham in May 1886.
As a young man he became a Redemptorist, and for about six years after the last war was in Clapham. During the last war he became a Roman Catholic chaplain in the Army and served in France. It was not long, however, before he transferred to the Royal Navy, his favourite service.
DESCENDANT OF HARDY.
That it was his favourite Service can only be expected, as he was a descendant of Capt. Hardy, pf H.M.S. Victory, with Nelson, on his mother's side. He was with the Navy in many big engagements, and after the last war was on the vessel which took the Prince of Wales to Canada. When the present war broke out he offered his services to the Navy, and despite the fact that he was over age, and was immediately sent on the high seas. In the summer his boat was torpedoed, and no more was heard of him. His death has been presumed.
Solemn Mass was sung at St Mary's Redemptorist Church, Clapham Common, on Friday morning.
There was a large congregation, who had gathered for this most impressive service.
The celebrant was Father Costello (Bournemouth), and in the sanctuary was Monseigneur Dewey (Senior Catholic Naval Chaplain). The Mass was sung by a choir of the priests of St Mary's Monastery.
Admiral Boyd and Comdr. Slattery were also present at the service, as were Father Willie Bradley, C.SS.R.. brother of the dead priests and Miss Nora Bradley, his sister, who is engaged in Civil Defence, and who captain of the Girl Guides associated with St. Mary's Church.
His mother was unable to be present, as she was living in Cornwall.
Celebrating Religious Life
Details
Celebrating Religious Life...
The Redemptorist Community at St Mary's Clapham invited all the Religious of the area to come and celebrate together the Feast of the Presentation.
It was great to have so many familiar and so many unfamiliar faces present that evening.
The energy and the humour that was present on that occasion ensured that we all went home refreshed, having renewed old friendships and made even more new ones.
We are delighted, and many were very pleasantly surprised to find out that our esteemed guest was His Excellency Archbishop Edward Adams, the Apostolic Nuncio in the UK, he was also joined by his Secretary Monsignor Vincent Brady.
As it happens, Archbishop Adams is the Titular Archbishop of Scala, which is a small village on the Amalfi coast in Italy - where indeed the Redemptorists were founded in 1732!
Our Religious Life is great and we celebrate it whenever we can!
Our CSsR Rule
Details
Our CSsR Rule...
Although we were founded in 1732, it was not until this day in 1749, when Pope Benedict XIV approved the Redemptorist Congregation and Rule. Deo Gratias!
Interestingly, until 1749 and our approval by Pope Benedict XIV, we were the Congregation of the Most Holy Saviour - the name was deemed too similar to the formal title of the Canons Regular of the Lateran, and so got changed to
the Most Holy Redeemer.
Sr Mary Perpetuo OSsR RIP
Details
Sr Mary Perpetuo OSsR RIP...
Please pray for the peaceful and happy repose of the soul of
Sr Mary Perpetuo OSsR
who died on Monday 21st January 2019.
The funeral mass for Sr Mary Perpetuo OSsR will take place on
Thursday 24th January 2019
in the Monastery Chapel, St Alphonsus Road, Dublin.
Burial will follow in the Community Cemetery.
The funeral will be on line www.rednuns.com
Requiescat in pace.
Provincial Chapter 2019
Details
Provincial Chapter 2019...
At the conclusion of our Provincial Chapter, the following results of our elections can now be know.
The Members of the Ordinary Provincial Council are...
Fr Ronald McAinsh CSsR received more than 2/3 of the vote in the first ballot for Provincial Superior. Accordingly this was treated as a postulation which was granted the General Government.
Fr Richard Reid CSsR was elected Vicar Provincial, and his apointment has been confirmed by the General Goverment.
Fr Andrew Burns CSsR was elected as the third member of the OPC.
L. to R. Frs Richard Reid CSsR, Ronald McAinsh CSsR, Andrew Burns CSsR
- the new Ordinary Provincial Council